Raksha Bandhan is perhaps one of the most awaited religious festivals of the year. It is a day of expression of the bond of love and protection between a brother and his sister. The sister ties a thread of love around her brother's wrist, promising to stand by him and pray for his long life and prosperity. In return the brother pledges to ever protect and be a pillar of strength for his sister.
It is a day when the sister demands that her brother show his love for her by gifting her something that he knows she would love; A lasting tribute to their bond. What better way to express this than to gift an Adamis product- the symbol of trust, quality and durability.
Adamis leather products have been the foremost gifting choice for generations. Their wide range of leather articles, include something for every budget and style. You may begin to choose from a colourful, extensive selection of bags for women… something that they can never have enough of! This includes handbags ranging for office and formal use to laptop cases and fashionable day bags. If this is not your sister's style mantra, then opt for trendy evening bags with embellished buttons and gold slings. Team up and complete the look with a wide variety of small accessories like matching wallets that are designed to complement each bag with their sensible and stylish designs. Hop on over to the Adamis store at Colaba to let us help you discover that special something for that special lady in your life – your sister.
Hand Bags
A woman's biggest style statement is the bag she carries. There's always a new style or colour that she desires to add that special touch to her wardrobe. Light up this occasion for that special lady in your life by gifting her an Adamis bag. Choose from an eclectic range of colours and designs that include something to match every budget, style and wardrobe.
https://adamis.in/Women/Handbag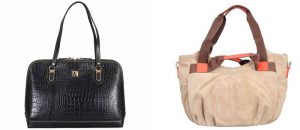 Wallets
Help her get organised in style. Our wallets are especially crafted to hold all essentials on the inside with an exterior that you would be proud to own. Available in various options of length, size and functionality.
https://adamis.in/Accessories/Ladies-wallets


Trolley Bags
When it comes to travel, your strolley reflects your attitude. Gift one of these premium leather crafted trolley bags that will make sure she thinks of your beautiful gesture every time she's on a trip.
https://adamis.in/Travel/Strolleys



Why Should women Have all The Fun? Gift Your brother Too!
Men's Wallets
A man and his wallet! The trick is finding him that perfect one. At Adamis,we are sure you will find exactly what he is looking for! Browse now through our extensive collection.
https://adamis.in/Men/Men-Wallets